Benefits
3 years to complete

Your training agreement will often only take three years to complete as a graduate.

Study any degree

You can study any undergraduate degree to become a chartered accountant.

Great earning potential

Globally ICAEW Chartered Accountants earned on average £108,000 in 2018.
What degrees do ACA students hold?
The ACA qualification is open to graduates from any degree discipline. While around half of graduates undertaking the ACA qualification studied business,
finance or accounting for their undergraduate degree, the rest come from a huge variety of backgrounds, with close to 17% studying an arts subject.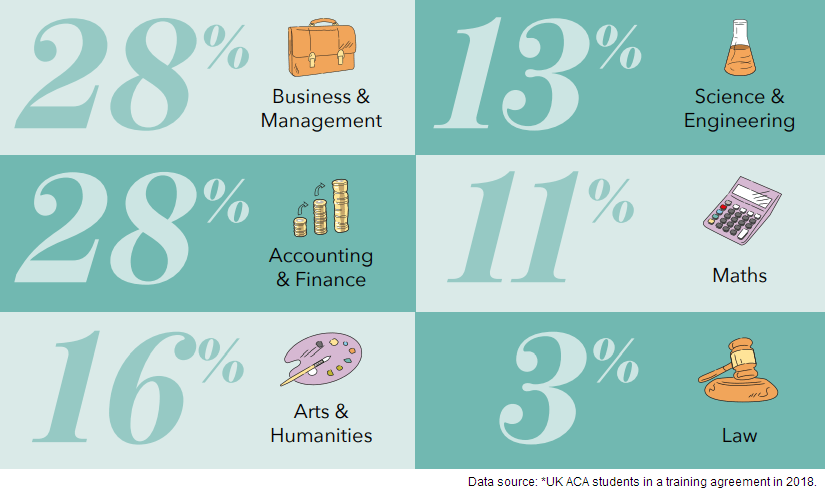 77
of FTSE 100 companies have an ICAEW Chartered Accountant on their board
(Source: ICAEW member data and FTSE 350 data at December 2019)
Studying the ACA after university
The ACA qualification takes three to five years to complete, studying part-time around your work commitments, and it is made up of four elements: 
Graduates are able to start their ACA training as soon as they have completed their degree.
To do so you can register with ICAEW and start studying the ACA exam modules as an independent student, however, it is recommended that you first secure a training agreement with an ICAEW authorised training employer.
Securing a training agreement early means you will benefit from working with an employer who is committed to supporting your progress and you will also be paid a competitive salary. 
We recommend applying for training agreement placements at the start of your final year of university. 
Entry requirements
Degree: First or 2:1 (some employers will consider a 2:2).
280+ UCAS points (or international equivalents) covering two A2 and AS levels (General Studies not usually accepted). 
International Baccalaureate or equivalent school-leaving qualifications are also accepted.
GCSEs: Three A*-C grades including Maths and English. 
ICAEW Careers+
ICAEW Careers+ is a free hub that will help you understand the key skills that employers are looking for and which will take you one step closer to achieving your goals.
With content developed by ICAEW, together with our students, employers and our network, you will gain insight to those skills, how to develop them and how you can become a well-rounded professional.
You will also find out how you can get started in your journey towards chartered accountancy, why this profession could be the career you're looking for and be inspired by those who were once where you are now!.
Getting ahead at university
Credit for prior learning
You don't have to wait until you graduate to take the first steps to qualifying as an ICAEW Chartered Accountant.
There are many undergraduate degree programmes which cover elements of the ACA syllabus enabling you to claim credits for prior learning.
This means you will have to complete fewer ACA exams after graduating to qualify as a chartered accountant.
ICAEW Student Scheme
Another way to get a head start in your accountancy career is to enrol on the ICAEW Student Scheme (USS). The programme is open to anyone studying an under or post graduate degree and enables you to start consolidating your finance and business skills while you are finishing your degree.
As well as providing careers advice and Excel training resources, joining the USS scheme enables you to study ICAEW's Certificate in Finance, Accounting and Business (ICAEW CFAB).
ICAEW CFAB is a qualification made up of the first six exam modules of the ACA qualification. Completing ICAEW CFAB while at university will not only provide you with valuable business skills, but will demonstrate your commitment to a career in accountancy to prospective employers.
Training internationally
If you want to train for the ACA in another country, you must ensure you are entitled to work in that country. It is your responsibility to understand what work visa you need and how to secure one. ICAEW cannot support you in this process, but your potential employer might be able to offer advice.