01
About ICAEW
Founded in the UK in 1880, ICAEW is a world leading professional membership organisation headquartered in London with offices internationally including Kuala Lumpur, Singapore, Vietnam and Indonesia.
We connect with over 150,000 chartered accountants worldwide, providing this community of professionals with the power to build and sustain strong economies. By training, developing and supporting accountants throughout their career, we ensure that they have the expertise and values to meet the needs of tomorrow's businesses.
Our profession is right at the heart of the decisions that will define the future, and we contribute by sharing our knowledge, insight and capabilities with others. That way, we can be sure we are building robust, accountable and fair economies across the globe.
02
The ACA qualification
Being an ICAEW Chartered Accountant is no ordinary achievement. Your premium qualification sets you apart as a member of a highly influential and respected professional body which connects you to a wider global community of financial experts. This means you are well placed to pursue the most interesting and rewarding opportunities at every stage of your career.
The ACA qualification takes three to five years to complete, studying part-time around your work commitments, and it is made up of four elements:
How to become a chartered accountant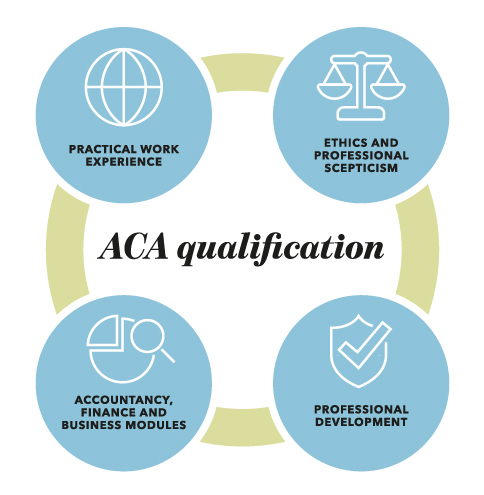 03
ICAEW CFAB
ICAEW Certificate in Finance, Accounting and Business (ICAEW CFAB) is the practical business qualification for those interested in or working in business. Internationally recognised and respected by employers around the world, the course content makes it ideal for any business-minded people.
Whether you're starting out on your career, setting up your own business or simply looking to develop your skills, ICAEW CFAB will support you every step of the way.
Over six modules, you can learn about business, technology and finance, management information, law, assurance, and the principles of tax and accounting – all practical areas of study that will help you achieve your goals.
04
ICAEW Student Scheme
The ICAEW Student Scheme is an online toolkit designed to equip you with the knowledge and skills you need to achieve your career goals.
It's a competitive world out there. With many employers receiving hundreds of applications for every vacancy, you need to be able to demonstrate that there's more to you than just the course that you're studying.
It's important that you make the most of your time as a student and do what you can to become a real stand-out candidate.
Whatever you decide to do next, realise your ambitions with ICAEW Student Scheme.
05
Business Finance Professional
This designation recognises professionals who have gained the essential knowledge, skills and experience necessary for a successful career in business and finance. Those with the BFP designation benefit from ongoing support and advice from ICAEW, a world-leading professional membership organisation, as well as from ongoing personal and professional development.
Whether you're new to ICAEW or have completed one of our qualifications, you can start your journey towards becoming a BFP at any point. You can be any of the following:
ICAEW CFAB student or holder or eligible for exemptions through your degree.
Current or former ACA student.
An ICAEW apprentice at Level 4 or Level 7.
New to ICAEW.
Have a similar qualification from another membership organisation.